A Bilingual Poetry Reading by Anna Halberstadt from her new collections
Join us on Wednesday, November 1st, at the Yorkville Library as the Russian American Cultural Center presents author Anna Halberstadt who will read poetry from her new collections in English and Russian.
Event Venue:
Yorkville Library, Meeting Room
Meeting Room, 222 E. 79th Street (btw 2nd and 3rd Ave) New York, NY 10075

Event Date:
Wednesday, November 1st, 5:00-7:00 PM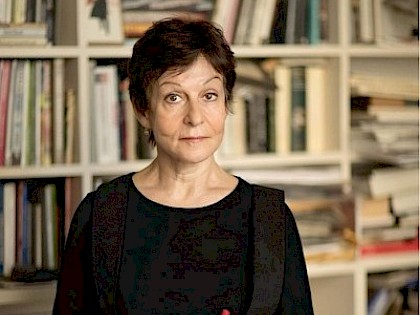 Anna Halberstadt will read poetry from her new books: "Психея с крылышками под чесночным соусом" ("Psyche with Wings in Garlic Souce"), a new collection of poems in Russian, published by Inversia in 2023, "Трансформациия", translations of Adam Zagaewski''s poetry from Polish into Russian published by Free Poetry, and "A Man Needs only a Room", translations in collaboration with Olga Livshin and Andrew Janco, of Vladimir Gandelsman's poetry into English, published by New Meridian Arts.
Anna Halberstadt is a poet and a translator from Russian, Lithuanian and English. Her poetry in English was widely published in over 80 journals, such as Caliban, Cimarron Review, Literary Imagination (Oxford Journals) and numerous anthologies, lately, in anthologies of anti-war poems. Anna's poetry was translated into Lithuanian, Ukrainian, Serbian, Tamil and Bengali. She published six collections of poetry in – Vilnius Diary and Green in a Landscape with Ashes, Snowstorm in March is forthcoming in 2023, and in Russian – Transit, Пасмурное Солнце, Психея с крылышками под чесночным соусом.
Anna published four books of translations into the Russian – of poetry by Eileen Myles, Selected, Selected, Nocturnal Fire, by Edward Hirsch, Spring Equals Love by Aushra Kaziliunaite, Transformation by Adam Zagaewski. She translated A Man needs Only a Room, a book of poetry and essays by Valdimir Gandelsman, in collaboration with Olga Livshin and Andrew Janco. A book of Maria Galina's poetry, Communiques translated in collaboration with Ainsley Morse is forthcoming in Cikada press in 2023.
She guest-edited two volumes of Russian poetry in English translation for The Café Review (2019 and 2021). Anna Halberstadt is a recipient of the International Merit Award by Atlanta Review, 2016. She received a Poetry prize by the Russian literary journal Children of Ra in 2016. Persona PLUS journal called Translator of the Year 2017 for her translation of Bob Dylan's poem Brownsville Girl. Vilnius Diary in Lithuanian has become one of the TOP10 books, published in Lithuania in 2017, named by the Lithuanian news site Lt.15. It was also chosen for the list of most important books in translation in 2017 by the Lithuanian Translators Association. Her book of Selected Poems in Lithuanian translation, Transit, was named one of TOP15 poetry books of 2020 by Lt.15.
https://www.eventbrite.com/e/a-bilingual-poetry-reading-by-anna-halberstadt-from-her-new-collections-tickets-716820719067?utm_source=eventbrite&utm_medium=email&utm;
https://www.facebook.com/events/321135363917549;
Russian-American Cultural Center programing is made possible by part with public funds from the New York City Department of Cultural Affairs, in partnership with the City Council, the New York State Council on the Arts with the support of the Office of the Governor and the New York State Legislature, Cojeco and Tianaderrah Foundation.