Redemption by Aleksandr Proshkin
Join us for a screening of this award-winning film adaptation, a stark and powerful portrait of humanity in the aftermath of the war and the Holocaust.
Event Venue:
Hunter College
Room 510, Hunter North Building
695 Park Avenue, New York, NY 10065

Event Date:
Friday, September 27, 2019 | 6:30 pm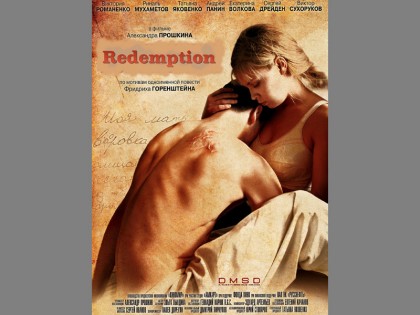 Redemption by Aleksandr Proshkin,  based on the novel by Friedrich Gorenstein
Russia, 2012, in Russian with English subtitles
Introduction by Professor Emil Draitser, Hunter College

It is New Year's Eve 1945 in a small Soviet town not long liberated from German occupation. Sashenka, a headstrong and self-centered teenage girl, resents her mother for taking a lover after her father's death in the war, and denounces her to the authorities for the petty theft that keeps them from going hungry. When she meets a Jewish lieutenant who has returned to bury his family, betrayed and murdered by their neighbors during the occupation, both must come to terms with the trauma that surrounds them as their relationship deepens.

Redemption by Friedrich Gorenstein is a stark and powerful portrait of humanity caught up in Stalin's police state in the aftermath of the war and the Holocaust. In this short novel, written in 1967 but unpublished for many years, Friedrich Gorenstein effortlessly combines the concrete details of daily life in this devastated society with witness testimonies to the mass murder of Jews. He gives a realistic account of postwar Soviet suffering through nuanced psychological portraits of people confronted with harsh choices and a coming-of-age story underscored by the deep involvement of sexuality and violence. Interspersed are flights of philosophical consideration of the relationship between Christians and Jews, love and suffering, justice and forgiveness. A major addition to the canon of literature bearing witness to the Holocaust in the Soviet Union, Redemption is an important reckoning with anti-Semitism and Stalinist repression from a significant Soviet Jewish voice.

Friedrich Gorenstein (1932–2002), born in Kiev, was a Soviet Jewish writer and screenwriter who collaborated with Andrei Tarkovsky on Solaris (1972), among other works. His father was arrested during Stalin's purges and later shot. Unable to publish in the Soviet Union, Gorenstein emigrated to Berlin, where he lived until his death. An award-winning film adaptation of Redemption was released in 2012. 
RSVP via https://www.reechunter.com/current-events.html#Redemption