The Balaklava Eastern European Poets Reading Series
Keith Gessen, Genya Turovskaya & Ilya Bernstein.
Event Date:
2005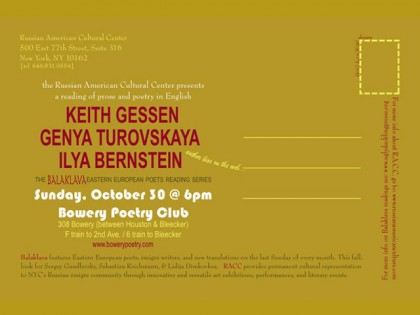 Keith Gessen
Born in Moscow in 1975 and emigrated with his family in 1981. His short stories have appeared in AGNI , Best New American Voices 2005, and n+1, of which he is a co-founder. His translations have appeared in the Paris Review and n+1. His journalism has appeared in the Atlantic Monthly and the New York Review of Books, and also n+1. He is currently a contributing editor at New York magazine.

Genya Turovskaya
Originally from Kiev, Ukraine, Genya Turovskaya is a poet and translator currently living in Brooklyn, New York. She is the author of Calendar (Ugly Duckling Presse 2002). Her poetry and translations from Russian (of Arkadii Dragomoshchenko, Elena Shvarts, and Aleksandr Skidan) have appeared and are forthcoming in Conjunctions, 6x6, Aufgabe, Poets and Poems (St. Mark's Poetry Project on-line), Chicago Review, Octopus, as well as other publications. She has been the recipient of various awards and fellowships including a MacDowell Colony Fellowship, a Montana Artist Refuge Fellowship, the Witter Bynner Translation Residency at Santa Fe Art Institute, and a Fund for Poetry grant. She holds a Master of Fine Arts degree from The Milton Avery Graduate School of the Arts at Bard College, and is the Associate Editor of the Eastern European Poets Series at Ugly Duckling Presse.

Ilya Bernstein
Ilya is the author of one book of poems, "Attention and Man" (UDP, 2003). He has translated books on anthropology, art history, mathematics, and contemporary Russian history for Cooper Union Press, Edgewise Press, Centro Atlántico de Arte Moderno, Cabildo de Gran Canaria, the American Mathematical Society, and S.P.I. Press. His translations of Russian poetry have appeared in Ars-Interpres and Persephone. His poems and prose have appeared in 6x6, Moon City Review, Accents and Voices, and RES: Anthropology and Aesthetics. Born in Moscow in 1971, Bernstein came to the United States in 1980 and graduated from Columbia College in 1992. He lives in New York City.

Matvei Yankelevich
Matvei is the editor of the Eastern European Poets Series from Ugly Duckling Presse, and co-edits 6x6, a poetry periodical. Matvei's translations of Daniil Kharms have appeared in 3rd Bed, The Germ, New American Writing, Octopus, Open City, PAJ, and Watchword. His translations of Kharms' selected prose and poetry is forthcoming from Overlook Press / Ardis in 2007. His own writing has appeared in various journals, including Fulcrum, LIT, Fence, and Open City. His ongoing essay on Russian-American poets is on-line at Octopus magazine. He teaches Russian Literature at Hunter College in New York.