1913: The World Implodes Series—Stravinsky at the Metropolitan Museum of Art
A series at The Met puts this period into context with conversations and performances, including Stravinsky's Rite of Spring.
Event Venue:
Grace Rainey Rogers Auditorium, The Metropolitan Museum of Art
1000 Fifth Avenue
New York, New York 10028

Event Date:
November 9, 2013, 7:00 pm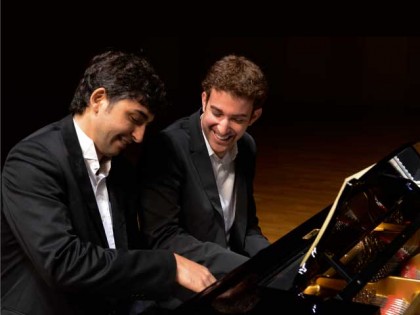 Duo Amal
Saturday, November 9, 2013, at 7:00 pm
$40; Save $5* on individual tickets– mention code RACC13 when purchasing tickets
* Service charges apply. Discount valid online, by phone, or in person in the Great Hall Box Office.  No refunds or exchanges.
"When the music ends, if you're not deeply moved by the depth of Kohlberg's insight, you might want to check your pulse." —NPR.
From the seeds of one of the world's most enduring conflicts comes an inspiring musical collaboration, as two pianists create an alliance that their nations are yet to enjoy. Yaron Kohlberg and Bishara Haroni, the preeminent pianists of their generation in their respective homelands—Israel and Palestine—perform two compositions separated by 100 years.
Beethoven's Symphony No. 7 (1813) and Stravinsky's Rite of Spring (1913) arranged for two pianos, four hands.
Part of the series 1913: The World Implodes.
Tickets to this event include Museum admission.
Bring the Kids tickets! $1 tickets for kids (ages 7–16) are available for this concert. Children must be accompanied by an adult purchasing a full-price ticket (maximum three children's tickets per paying adult).
Dual Amal photo courtesy of Aviv Productions.