Anna: Love in the Cold War
A harsh look at the demands of artistic and personal integrity, not to mention taking more than a few swipes at American consumerism...
Event Venue:
Dorothy Strelsin Theatre
312 West 36th Street (1st Floor)
New York

Event Date:
April 22, 2011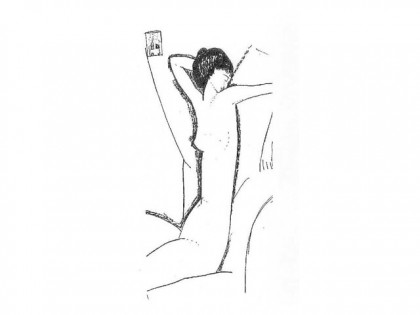 Beginning Friday, April 22nd and running through Sunday May 8th, 2011
Two lost souls share an intimate moment, each learning to love and dream again, in playwright Nancy P. Moss's intimate historical drama Anna: Love in the Cold War. The play takes place during a bitter winter night in 1945 Leningrad, where oppression and suspicion are commonplace and one never knows who may be listening. Directed by Joshua A. Kashinsky.
Beloved and respected by the Russian people and the world's literary elite, poet Anna Gorenkio (a.k.a. Anna Akhmatova) has not been allowed to publish in her native land for over 20 years. On this particular night she welcomes Isaiah Berlin, a lonely Jewish professor from Oxford, whose family fled Russia when he was a child. Suspicious of her visitor at first, Anna slowly opens up to this ardent admirer, recalling her life as a child, her many lovers and the pain she has felt for her country and why she has never left, despite her many opportunities to do so. As the evening progresses, the two engage in a sort of love affair, one which threatens both their safeties and which begins in a smoke-filled Paris café where they lock eyes across a crowded room; and ending with the two debating just what true freedom really means.
A harsh look at the demands of artistic and personal integrity, not to mention taking more than a few swipes at American consumerism, Anna: Love in the Cold War is based on the actual 1945 meeting between Anna Akhmatova and Isaiah Berlin in Leningrad, and features numerous selections of Anna's actual verse. A 2002 review of the play in the Honolulu Star-Bulletin noted the production "packed power and charm'. Poems translated by Judith Hemschemeyer. General managers for the show are John Chatterton and Emileena Pedigo. Costume designer is Valerie Bart. The production is an Equity Showcase.
Nancy P. Moss's Anna was produced in Honolulu by The Actors Group in 2002 and won a statewide award for Best Original Script. In 2008, Honolulu's Kumu Kahua Theatre produced her play Hostage Wife, and The Actors Group, also in Honolulu, presented Ring of Fire, both plays being about the Iraq war. Hostage Wife also won the Abingdon Theatre's Wolk Award in 2005. An earlier Iraq War play, The Last Outpost, had a reading at Abingdon Theatre in 2004 and a Honolulu production at Marks Garage in 2005. Two other Iraq War plays, More Brave Than Me and The Base, won Kumu Kahua's Residents Award. Her musical Infinite Jest, on the life and works of the British writer Laurence Sterne, played at Honolulu's Tenney Theatre in 1998 and had a New York showcase in 2002. Her latest play, Will the Real Charlie Chan Please Stand Up?, tells the story of the real-life Honolulu police detective who inspired the fictional Charlie Chan.
Joshua A. Kashinsky: Recent projects include the new musical Honestly Abe by Robert Hecker (La Muse Venale/Mint Theater) and a reading of Dead and Buried by James McLindon (Luna Stage). Other directing credits include McCarter Theatre's Youth Ink! Festival and MCC Theatre's Youth Company. Josh was recently a Directing and Producing Assistant at McCarter Theatre in Princeton, NJ where he assisted Des McAnnuff, Amy Morton and Nicholas Martin. As a playwright, his work has been seen in California, New York, Maine and Ontario. Most recently his play Heels in the Sand had a reading at Woodie King Jr.'s New Federal Theatre. He is the recipient of the Lipkin Prize and is a Corwin Award winner. Josh is a graduate of the University of California, Santa Barbara. He received his MFA from Sarah Lawrence College and is a proud member of the Dramatists Guild.
Show times are Wednesday-Saturday at 8pm and Sunday at 2pm. There is no 8pm performance on Wednesday, April 27th. Tickets are $18.00, students and seniors - $15.00.
Reservations 212-868-4444 or http://www.smarttix.com.
Information: http://www.facebook.com/pages/ANNA-by-Nancy-Moss/176418189071632.
Members of the press are invited to all performances.