Long-Distance Affair
An international theatrical endeavor that creates one-on-one experiences for New York audience members with performers on five continents.
Event Venue:
The Gershwin Hotel
7 East 27th Street (between Fifth and Madison Avenues)
New York, NY

Event Date:
February 5, 2013 to February 28, 2013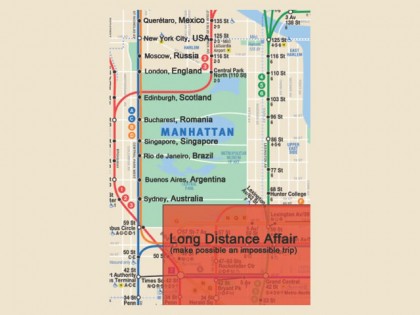 February 5, 2013 to February 28, 2013
Thirty-one artists – actors, playwrights and directors – from 15 countries will participate in PopUp Theatrics' Long Distance Affair (make possible an impossible trip), an international theatrical endeavor that explores the nexus of intimacy and technology. The event is presented in association with Neke Carson.
What kind of rapport can be developed when all the information you receive comes through a computer screen? In the cozy performance lounge at The Gershwin Hotel, six audience members at a time will be welcomed to the six computer stations set up to facilitate one-on-one "affairs" with actors in another part of the world – Argentina, Australia, Scotland and more – performing from their private homes in real time. Each "affair" – a short play presented virtually via SKYPE – will be given solely for one audience member at a time. Over the course of the evening, each audience member will experience three "affairs" with three different actors across the globe. The actors have signed on to this adventurous project that will have them acting in the wee hours of the morning to accommodate New York audiences.
The short "affairs" or virtual plays in Long Distance Affair have been created by international teams of writers, directors and actors through rehearsals via SKYPE. Participating artists include Brazilian director Michel Melamed (Regurgitophagy, Under the Radar Festival), Ukrainian actress Oksana Mysina (K.I. from Crime), actress Victoria Chen (Australia's Zen Zen Zo Physical Theatre), Romanian playwright Peca Stefan, Spanish playwright Beatriz Cabur, Mexican playwright Mariana Hartasanchez, and US-based directors and PopUp Theatrics founders Tamilla Woodard and Ana Margineanu.
Long Distance Affair, conceived by Ana Margineanu and developed by Tamilla Woodard, was first presented in November 2011 at "Around the World in 24 Hours", an Internationalists Directors Collective festival of independent global theatre makers. PopUP was invited to present Long Distance Affair as part of the Festival Tecnologia-Exceso de Presente in Santiago De Querétaro, Mexico in October 2012 and will be a part of MayFesto at the Tron in Glasgow, Scotland in May.
Performances of Long Distance Affair are February 5 – 28, Tuesday and Thursday at 6:45 pm, 7:15 pm, 7:45 pm, 8:15 pm and 8:45 pm. Performances last one hour. Tickets to Long Distance Affair (make possible an impossible trip) are $25 and include three "affairs".
Tickets are limited. Only 30 audience members a night will experience these "affairs".
ABOUT POPUP THEATRICS
PopUp Theatrics is a partnership between theatre artists Tamilla Woodard and Ana Margineanu founding members of The Internationalists Directors Collective and alumni of the Lincoln Center Directors Lab. They have teamed up to found this innovative venture whose mission is to create site-specific/site impacting theatrical events in dynamic collaborations with theatre artists world wide. Long Distance Affair will be the New York premiere of PopUp whose founders, Tamilla Woodard and Ana Margineanu, brought the innovative immersive Hotel Project to audiences in New York City in 2012. Molly Morris joined the PopUp partnership as producing partner in November.
Purchase Advance tickets through Ovation Tix: www.popUpTheatrics.com or call 866-811-4111