New Voices in Russian Theatre
New Voices in Russian Theatre: Marina Shron stages a reading of her mythical work, "Time and the Beast."
Event Date:
2005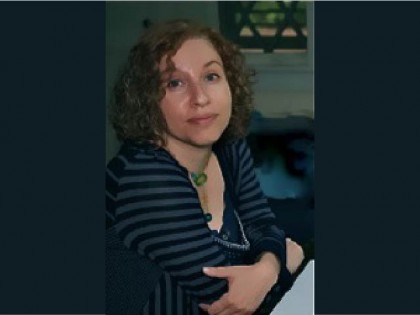 New Voices in Russian Theatre
A staged reading of:
"Time and the Beast"
by Marina Shron, Directed by Daniela Varon
From the Author:
Inspired by the biblical story of Jacob and the sisters Rachel and Leah, the play follows the changing dynamics between the three characters as they "mature" in history -- while history itself comes of age.  
The story begins to unravel in a timeless, mythical place: that's where Jacob, Rachel and Leah first meet and form their frail, yet long lasting triangle.  Coming to an abortive end, the story then picks up on a first historical isle, Ukraine, 1918, then on another, Germany, 1943. Taken through the ordeals of revolution, war and holocaust, the characters meet again – stumble upon one other -- amidst the amnesia of the present, only to discover that the bond connecting them is as strong as ever.
The play was largely inspired by my father's family history. It also draws on oral histories of Russian Immigrants included in my book "Red Blues" (co-authored with Dennis Shasha). Like in that book, I used the approach to narrative that can be defined as "dramatic calculus", where time exists simultaneously in three incarnations – the physical time the characters feel trapped in, the psychological time – a metaphor for growth and change, and time as history The dimensions of the play are that of myth, history (Jewish history, taken at its most pivotal, violent moments), and memory. Whether it is seen as an epic love triangle or a chamber version of history, the play explores the ways in which any major historical transition is fueled by individual desires (as opposed to the view of an "almighty history that defines the course of human lives).