Odd Appetite
Based in New York City, Odd Appetite is the duo of performers/composers Ha-Yang Kim (cello) and Nathan Davis (percussion).
Event Date:
September 28, 2007 to September 30, 2007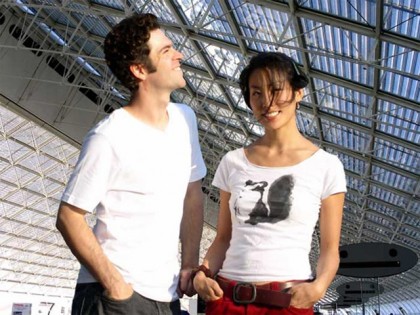 Long Arms Festival
Moscow, Russia
Friday, September 28
Apositsia Festival III
St. Petersburg, Russia
Sunday, September 30
Based in New York City, Odd Appetite is the duo of performers/composers Ha-Yang Kim (cello) and Nathan Davis (percussion). Both classically trained in American and European conservatories, Odd Appetite composes, collaborates, and performs its own music written for this unique instrumentation as well as performing commissioned works by select composers. Their programs defy what the typical new music concert experience is - and defines what it can be - by offering music that is both subtle and visceral, complex yet unified by narrative and gesture. Critic Kyle Gann praised Odd Appetite in the Village Voice as "Expert virtuoso players", and David Cleary raved in 21st Century Music "The splendid duo Odd Appetite displayed careful chamber music interaction, a well-tuned ear for ensemble balance, and technical dexterity to burn." In addition to performing music from the West they have dedicated themselves to studying and performing music of Bali and of South India (Karnatic music), and use electronics to extend and exaggerate the acoustic properties of their instruments. Giant Balinese gongs, microtonal glockenspiel, drums, cowbells, tuned aluminum pipes, and hammered dulcimer are played alongside a de-tuned and amplified cello with stomp boxes and electronic effects, all played with dazzling virtuosity, passion and spirit. Odd Appetite has traveled the world in search of new sounds and languages, and their music is a manifestation of the zeal that they have for the music of today and this world. Recent seasons included performances as soloists at Carnegie Hall (with a gamelan orchestra), at the Bali Arts Festival, At the Bang on a Can Marathon Festival in New York, and premieres of original compositions in Amsterdam, Istanbul, Belgium, Seoul (Korea), and the US. Ama, a CD of Ms. Kim's music recently released on Tzadik, includes Odd Appetite in two compositions written by her for the duo. Upcoming events for this year include concerts in Holland, Belgium, and Russia at the Apositsia Festival in St. Petersburg and the Long Arms Festival in Moscow. The ISCM will present Odd Appetite in the world premiere of a new commissioned work by Lee Hyla at Symphony Space in New York as well as other venues in the US. Odd Appetite have been in residence and conducted educational outreach as guest artists at Brown University, Harvard, Brandeis, Wellesley, Dartmouth, and other colleges, as well as the Walden School for Young Composers and Monadnock Music in New Hampshire. The have received grants and support from the Argosy Foundation, the Trust for Mutual Understanding, and Meet the Composer.